More and more people are getting tattoos, but usually, it's just a symbolic tattoo or two... But for others, it can become a real addiction. This is Julia Nuno's story, a young nurse's assistant with a body almost completely covered with tattoos.
The soles of her feet, her genitals…
Originally, Julia Nuno was not addicted to tattoos. She explained that she got her first tattoo when she was 18 years old, with just a simple flower on her chest. But this tattoo was only the first of a very long series.
I started out small with a hibiscus flower on my chest but it just ended up growing. I had no intention of collecting or getting a suit but somewhere down the line I just decided to go all the way. Now I can't stop.
Little by little, the young woman who is a residential carer in California, got more and more tattoos. But it is only in the last few years that she accelerated this pace. In spite of warnings from her relatives, she continues her project and even went as far as getting her genitals tattooed recently in November 2020, in Texas.
Almost £20,000 spent, and there's more to come
Julia Nuno has already spent an astronomical amount of money to achieve this result: almost £20,000. This caregiver is now tattooed from the soles of her feet to the top of her head. She went one step further by shaving her head in order to be able to tattoo it, even though she had promised herself that it would never come to that.
For a long time I told myself and other people that I would never shave my head to get it tattooed, I said "that's crazy." But when I ran out of space on my body it was the next obvious part.
If you thought she couldn't do any more, think again. The next big step for Julia is to cover her entire face, which for the time being has not been tattooed. 'My mum doesn't like face tattoos so I know she won't be a fan when I have that done, but I feel like I have to do it,' she says.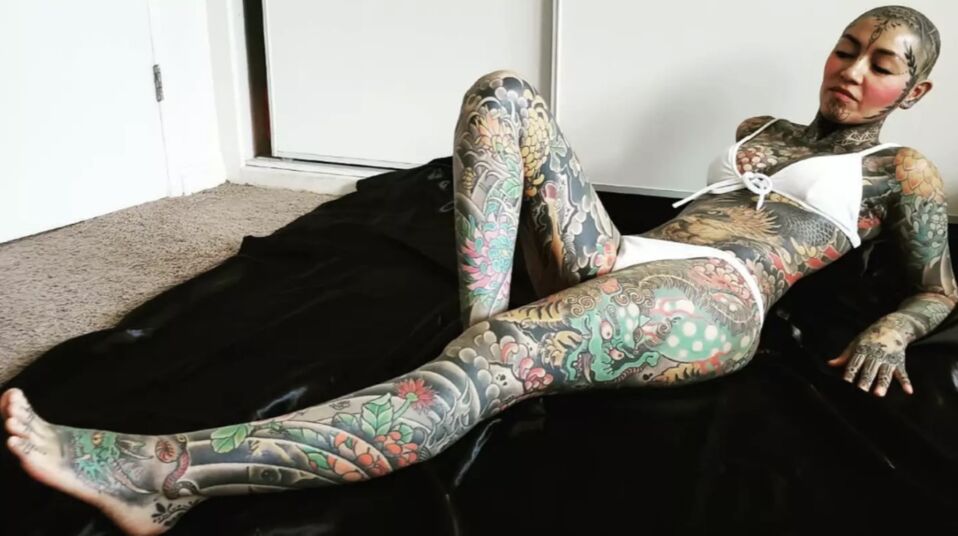 Watch the video above to get some tips on how to manage the pain of getting a tattoo!