The Double Down is by far KFC's most popular burger, and why wouldn't it be? The 'burger' is basically crispy bacon, melted cheese and barbecue sauce sandwiched between two deep-fried chicken breasts. But, despite its popularity, the burger is never around on a permanent basis. If it were then we have no doubt that KFC would be singlehandedly responsible for obesity in the UK.
But, for the first time since 2018, KFC has announced that the Double Down will once again be making a limited-time comeback. The fast-food chain made the announcement over Twitter stating that the fried chicken delight would be available from October 5th until the 15th of November.
The Double Down will be available for purchase fromKFC restaurantsnationwide and exclusively from Uber Eats. So, if munchies hit you past 10 pm don't you dare go searching on Deliveroo. KFC announced in a statement:
Goes without saying 2020 has been pretty fowl. We've all had a long, hard year... and it's not over yet. So over here at KFC HQ, we've been plotting and scheming - trying to find ways to bring a little joy to 2020 (it needs it). And we reckon if there's one thing the nation has been chirping out for, it's the return of a legendary fried chicken classic. Enter KFC's Double Down - the iconic bunless burger of your dreams. For those in the back, it features crispy bacon, melted cheese and barbeque sauce, all sandwiched between two succulent Original Recipe chicken fillets.
The Double Down will be available from just £4.99 or if you want to turn it into a combo with fries and drink you'll only need to shell out an extra pound. If fries, soda, two pieces of fried chicken and bacon isn't enough to fill you up then rest assured that you will also be able to order the Double Down in a box meal with fries, a drink, a side and a piece of KFC's original recipe chicken for just £7.49.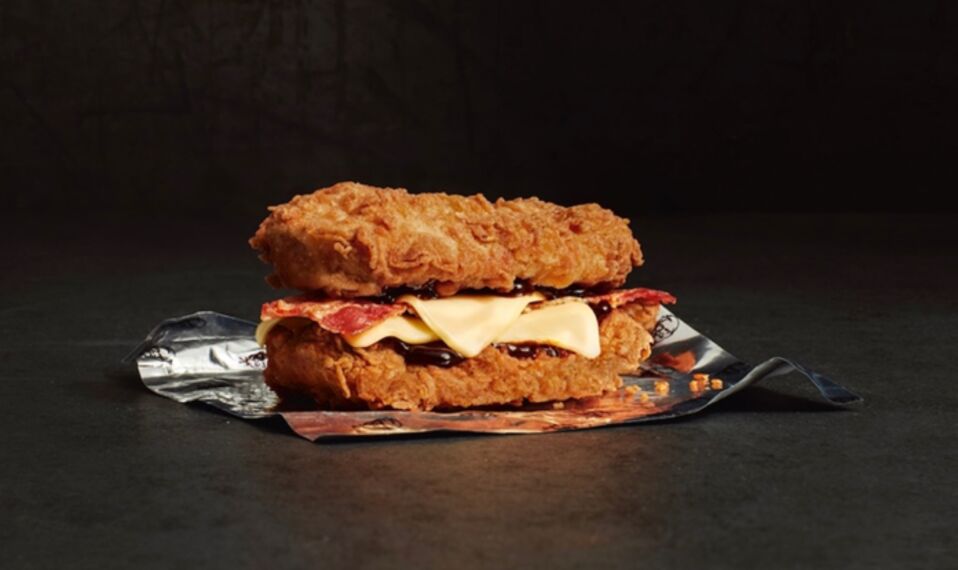 But, the Double Down isn't the only good news coming out of KFC. The fast-food joint has also announced that from next week they will be bringing back its £3.49 WOW Box.
The meal box comes complete with a filet burger, fries and a piece of original recipe chicken. KFC stated:
We know the sorry tale... you're working from home and it's leftovers for lunch again. Last night's pesto pasta doesn't quite rock the same, does it?! Fear not, KFC has come to the rescue with its new WOW Box meal deal, offering fans the Original Recipe Fillet Burger, alongside one piece of hand-breaded Original Recipe chicken and regular fries - all for a very wallet-pleasing £3.49. This mouth-watering deal is available from Monday 5 October, right through until Sunday 15 November. So, if you fancy a lunchtime treat (or just want a break from that boring cheese and ham sarnie), simply head down to your local KFC restaurant and ask for the WOW Box deal to get in on the action.
Sadly, just like the Double Down, the WOW box will also be around for a limited time from October 5th to November 15th. Make sure you get in before then... Because who knows when the Double Down will be back.