Last week, the Agusta Westland A109 medical helicopter managed a crash landing on the roof of the Keck Hospital of USC in LA.
The helicopter was carrying a donated heart which firefighters managed to save from the wreckage. Unfortunately, just moments after, a medic tripped over and dropped the organ on the ground.
Luckily for the recipient, the heartsurvived the five-second rule and the hospital declared the organ as 'fine'. A hospital spokesperson told the AFP news agency that the patient was doing well.
The heart itself was fine after being dropped.
Footage from the stressful scene showed a crowd of firefighters surrounding the helicopter which was lying on its side on the landing pad.
One of the firemen then proceeds to retrieve thedonor heartwhich was safe inside a container, before handing the precious gift of life over to one of the medics. However, Mr butterfingers himself managed to trip and drop the organ as he was walking away.
Officials claim that the incident did not affect the intended recipient waiting inside the hospital. Bahador Aghakoochek, a pharmacist intern spoke to CBS:
I was inside the building working, and then once we heard everyone run out, I went out and saw it. It was like people were saying, 'Oh, the helicopter, the blade of the helicopter was coming down' or something. I didn't see anything personally but I know they were talking about debris flying from the air.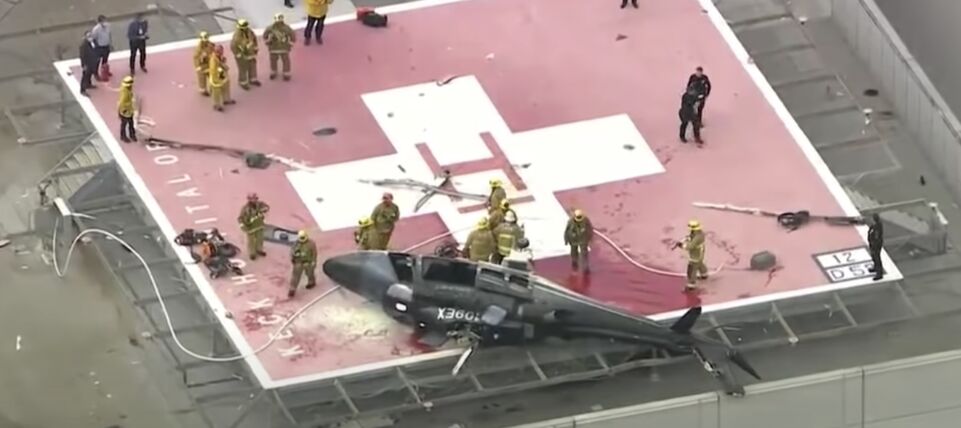 Officials have revealed that there were three people on board the aircraft at the time including the pilot, who sustained some minor injuries. The other two passengers managed to escape unscathed and nobody else was injured.
Authorities are still investigating the cause of the crash and Sean M. Cross, president of Helinet, the company that provided the helicopter, spoke to 10 News about the incident:
We are fully cooperating with the NTSB and FAA on their investigations. Our company prides itself on professional operation and maintenance of aircraft as core values - the safety of our customers and pilots is always our top priority. We are happy that at this time there appear to have been no serious injuries.
To check out the tragic yet stressful incident check out the video above!