After releasing 4 new menu items earlier this month, McDonald's just released yet another new menu, this time in collaboration with the rapper Travis Scott. The Travis Scott Meal is a partnership between the Houston rapper's record label Cactus Jack and McDonald's. This is the fast food chain's first celebrity meal collaboration since their deal with Michael Jordan in 1992.
McDonald's started selling the menu on September 8 and it will be available through October 4. Travis Scott was at a franchise in Downey, CA to promote the meal. He was greeted by a mob of fans waiting to get their daily dose of Travis Scott in the form of a hamburger, this time.
Travis Scott also designed custom t-shirts for McDonald's staff across America to wear during the promotion. The employee t-shirts already started popping up on eBay for as much as $450.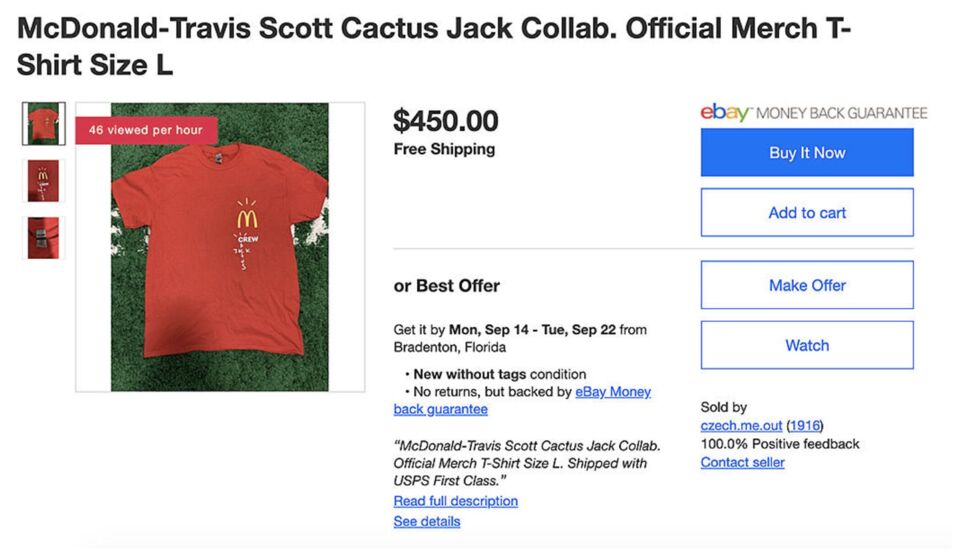 What's in the Travis Scott Meal?
The Travis Scott Meal is available for $6. It's composed of the rapper's favourite McDonald's items: a Quarter Pounder with cheese, bacon, lettuce, pickles, ketchup and mustard, medium fries with BBQ Sauce for dipping and a Sprite. Classic, yet delicious.
Cactus Jack x McDonald's New Merchandise
On top of designing a new uniform for the staff, Travis Scott and Cactus Jack also dropped a new merchandise collection of vintage visuals from McDonald's available on his online shop. You can buy a chicken McNugget body pillowfor $90 and a vintage metal lunch box for $45.
A controversial collaboration
McDonald's hopes the Travis Scott Meal will attract new, younger customers. However, not every franchise is thrilled with the collaboration. Some owners are allegedly worried that the rapper's image and explicit lyrics could reflect negatively on the company's 'family friendly image.'
Nevertheless, there may be more celebrity collaborations to come, according to Morgan Flatley, Mcdonald's U.S. Chief Marketing Officer. Stay tuned!