The false information spread like the Coronavirus epidemic. Bill Gates, the billionaire co-founder of Microsoft, is said to have bought a hydrogen-powered yachtfor a sum beyond comprehension, namely £500 million ($644 million). The Telegraphnewspaper broke the news on February 8th, before being picked up by the international press.
'I was the only journalist to ask them if it was true'
With this investment, Bill Gates was becoming the 'first owner' of a superyacht and was due to set sail in 2024. All very well, except that the information from the Telegraph and its reporter Christopher Williams was simply not true.
It took a BBC journalist contacting the designer of the 'superyacht' to understand that he had not actually received any orders for the hydrogen-powered boat. 'The designer told me that I was the only journalist to ask them if this viral story was true,' said journalist Zoe Kleinman in a tweet.
While a strongly worded press release was even sent out from the Dutch designer, Sinot, the Telegraph still hasn't changed its article, which is currently still online.
The article is still online on the Telegraph's website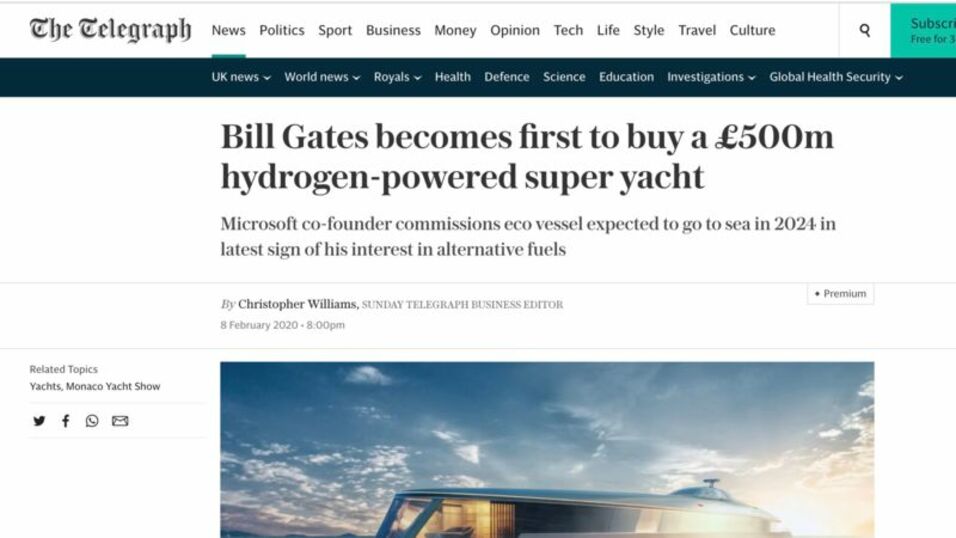 Telegraph
Some websites have made updates, others have not. The question remains as to why this particular piece of information has been so successful and has undergone no verification other than that of the BBC.