The Facebook post showed at least 15 men reclining on chairs, surrounding by pint glasses—and not a mask in sight. Under current rules, this sort of close-quarters gathering is highly illegal.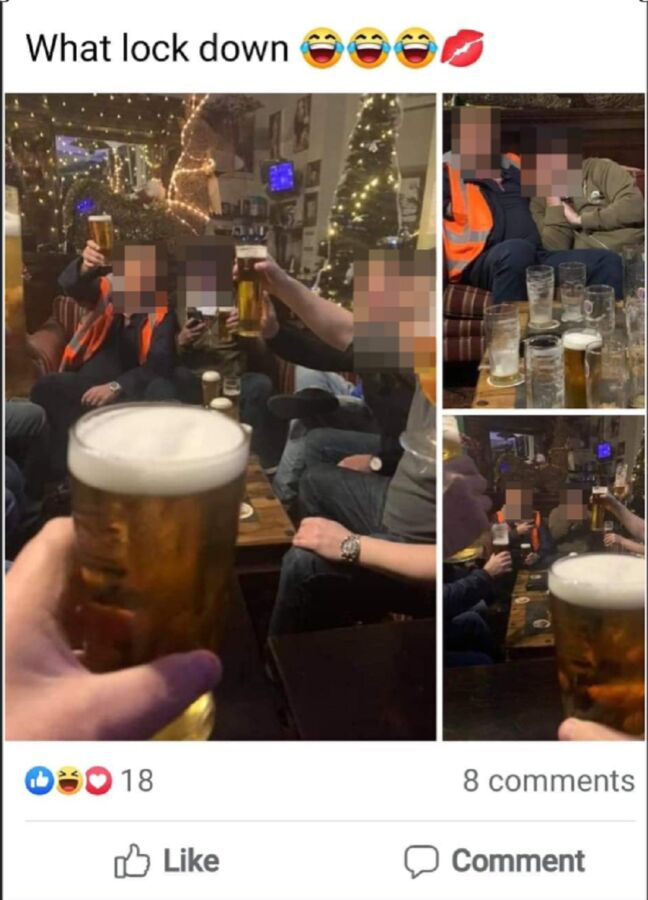 Prompt action
Police visited the Grosvernor House Hotel just a few days after the Alcohol Licensing team from Lincolnshire Police saw the incriminating picture on Facebook. The seized CCTV footage painted quite an edifying picture of the scene. Men slumped around drained pints—as much as 15 of them packed in the bar area. The footage also revealed some of the men smoking—some 14 years since the smoking ban in work places...
Sergeant Kim Enderby, Alcohol Licensing Manager, commented:
I thought after 29 years in the police there wasn't a lot left to shock me but the way in which this venue was operating was awful. [...] They were being served pint after pint by the owner of the premises Mr Sparks.
Another aggravating circumstance to the events was the presence of children, sat and ate at a table behind the smoking men.
When prompted to comment, the owner initially tried to declare the drinkers to be 'part of his social bubble.' A statement that carried no water when confronted with the CCTV footage.
Action taken
The Alcohol Licensing Team decided to apply for the venue to have its alcohol license revoked.
We will not hesitate to take action against any licensed premises whose operation presents a risk to the public, where there is criminality and where the licensing objectives are undermined
The application was successful, and the ban was confirmed at a digital hearing of Skegness District Council Licensing Sub-Committee on Tuesday.
As of today, Sparks has 21 days to appeal the decision.
We are not yet out of this pandemic, whilst the vaccine rollout is well under way, we still need everyone to be sensible and follow the regulations