The Northern Irish government has announced once again that the country will be going back into lockdown.
Northern Irelandwas previously undergoing a two-week 'circuit breaker' but upon yet another increase in coronavirus cases threatening to put the health service at risk, the country has announced they will once again go back into lockdown.
The new lockdown will commence a week from now on Friday the 27th of November when all hospitality, non-essential retail and services will once again close their doors.
Close contact services have been allowed to open today but have been warned that come the 27th they will have to shut their doors for the duration of the lockdown.
Arlene Foster, the First Minister of Stormont explained:
The Executive has been presented today with the sobering prospect of our hospitals becoming overwhelmed within weeks. It is clear that a tough, carefully timed, intervention is required to give us the best chance to have a safe and happy Christmas and further into the new year period.
The executive has also outlined new restrictions for the upcoming lockdown that are much stricter than the ones rejected from the DUP just last week.
But, after yesterday's meeting between the Executive and Health Minister Robin Swann resulted in an urgent call for action, strict lockdown measures had been agreed upon.
In the meeting, Swann warned that more restrictions were necessary before the end of November otherwise even a full lockdown in December would still result in hospitals becoming overwhelmed.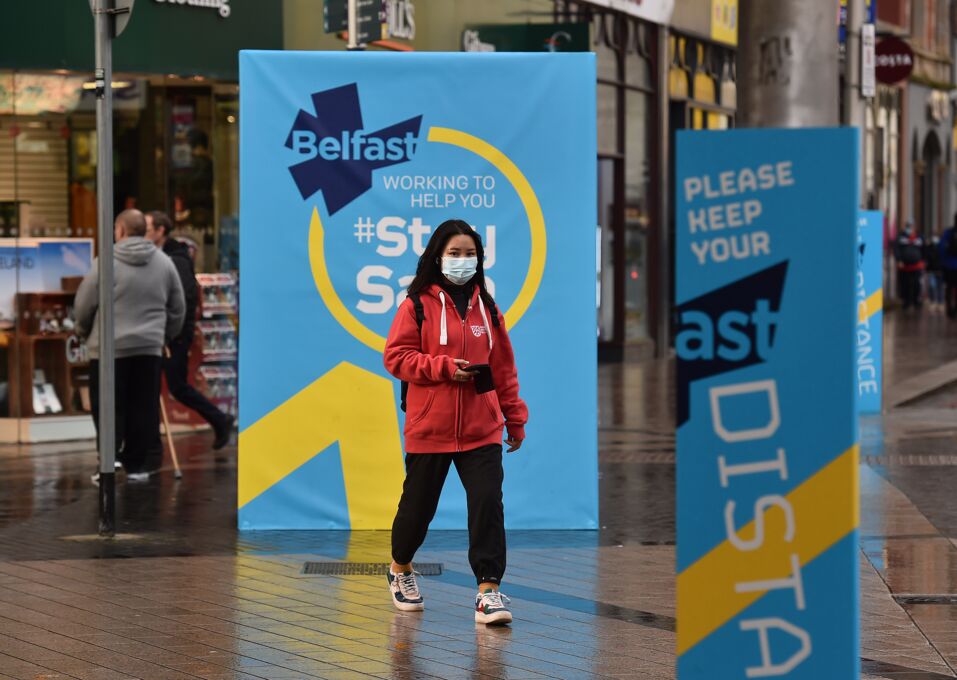 What are the new lockdown restrictions?
From Friday the 27th of November, Northern Ireland will have to follow the following lockdown procedures:
All non-essential retail and services will be closed
All close contact services will also be closed with tv & film production, health & social care, as well as elite sports, being exempt from this rule.
Hospitality will only be permitted to serve takeaway options. Exceptions include motorway, airport and harbour terminals
All leisure and entertainment facilities will be closed
Sports events are only permitted for elite players and all games must be spectator-free
Places of worship will be closed with the exception of weddings, civil ceremonies and funerals. All of which may include a total of 25 people.
No household gatherings of more than one household outside of current 'bubbling' arrangements with the exception of caring, maintenance and moving house.
People are encouraged to work from home where possible
Schools will remain open
Outdoor playgrounds and parks will remain open
All close contact services and coffee shops that were due to reopen today are still allowed to do so but must close their doors again on the 27th. Off licenses will also be allowed to open but must close by 8 pm. And, any businesses that don't want to reopen for the week will be granted access to financial aid for staying closed.
More financial support packages are also said to be arriving in the following days.
Deputy First Minister, Michelle O'Neill spoke out about the new restrictions admitting that while they may be hard for many, they are also necessary:
It is a difficult and challenging decision and as a mother and daughter, I understand how difficult these new interventions will be on family lives. Given the gravity of the situation, there is no other choice but to act now.
Colin Neill, chief executive of industry group Hospitality Ulster, also weighed in on the situation:
There is a huge amount of anger right across the hospitality industry. We have been left with left with no trade, no hope and a huge amount of redundancies on our hands.
However, Belfast Chamber chief executive Simon Hamilton, who represents traders in the city stated that the new lockdown would bring more havoc upon workers:
There is real anger tonight that the Executive's new lockdown decision will inevitably have a catastrophic effect on jobs and livelihoods. Their trust in this Executive is now at rock bottom.