We bet you think that you have a pretty sweet gaming set up, after all, you've spent the majority of the year inside so why not invest in a virtual escape. However, Odeon cinemas have come up with an insanely unique new gaming experience that even you can't beat.
The cinema chain has announced that they will be allowing their massive screens and insane sound setups to be hired for gaming. And the prices are pretty reasonable from just £100.
Can you fit a cinema screen in your house? We didn't think so.
Odeon's new and exciting 'big-screen gaming' package will be allowing gamers to play their all-time favourites on the big screen and Youtube celebrity Pew-Die-Pie has already put the new experience to the test.
Pew-Die-Pie recently posted about the new gaming setup to his Instagram stories where he was using one of the cinema screens for a quick game of Super Smash Bros Ultimate.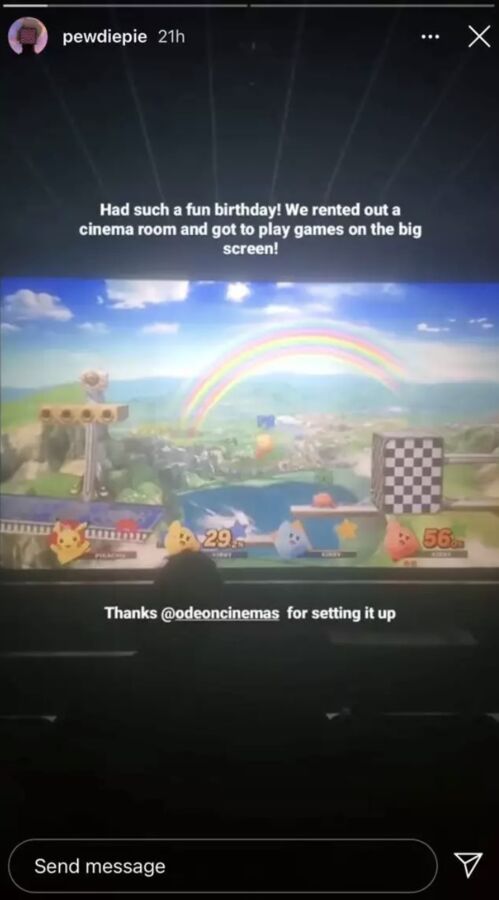 Odeon announced the new service in a Tweet stating:
Check out #pewdiepie's latest IG story for a glimpse at our awesome #BigScreenGaming offer! Play your favourite games up on the biggest screen in our cinemas. Email eventvenues@odeonuk.com for more info, and quote GAMING10 in your email to get 10% off your booking.
To book the unique gaming experience we recommend contacting your local Odeon first as prices and times may be subject to change.
But otherwise, all you need to do to ensure you can hook up your X-box or PS4 and play some Doom Eternal on the big screen is contact eventvenues@odeonuk.com to get a quote and then you could be in for the gaming experience of your life.
Try not to grease up your controllers too much with all that popcorn!
Cinema Industry Hit Hard By Coronavirus
The cinemaindustry has been one those hit the hardest by the coronavirus pandemic and many movie theatres all over the world have been forced to close. Odeon recently announced that it would be closing some of their premises on weekdays to keep up with the reduced demand.
Vue has also announced that some of its cinemas would close three days a week while Cineworld and Picturehouse cinemas have had to close down entirely.