Youtuber Jake Paul has recently been venturing into boxing with a 2-0 record. Now, the controversial star is itching to get back in the ring for a third bout. But, this time the confident man has taken a brave swipe at Conor McGregor for a $50 million challenge.
The Youtuber and brother of Logan Paul recently took to social media in a crass rant, challenging former UFC champion Conor McGregor to a $50 million fight wile also slagging off McGregor's new opponent Dustin Poirier and longtime rival Nate Diaz.
In the video, Logan started off unloading a bunch of profanity before finally getting to his point:
Good morning Conor McGregor — I know you're probably beating up old dudes in a bar right now, or maybe you're jacking off because you're sick of f**king your wife.
Paul's foul-mouthed proposal even took a swipe at McGregor's fiance Dee Devlin as well as UFC President Dana White who previously stated that there was no chance of the two going head to head.
I mean, she's a four Conor — you could do a lot better. Our team sent you a $50 million offer this morning … the biggest fight offer you've ever been offered, but you're scared to fight me Conor.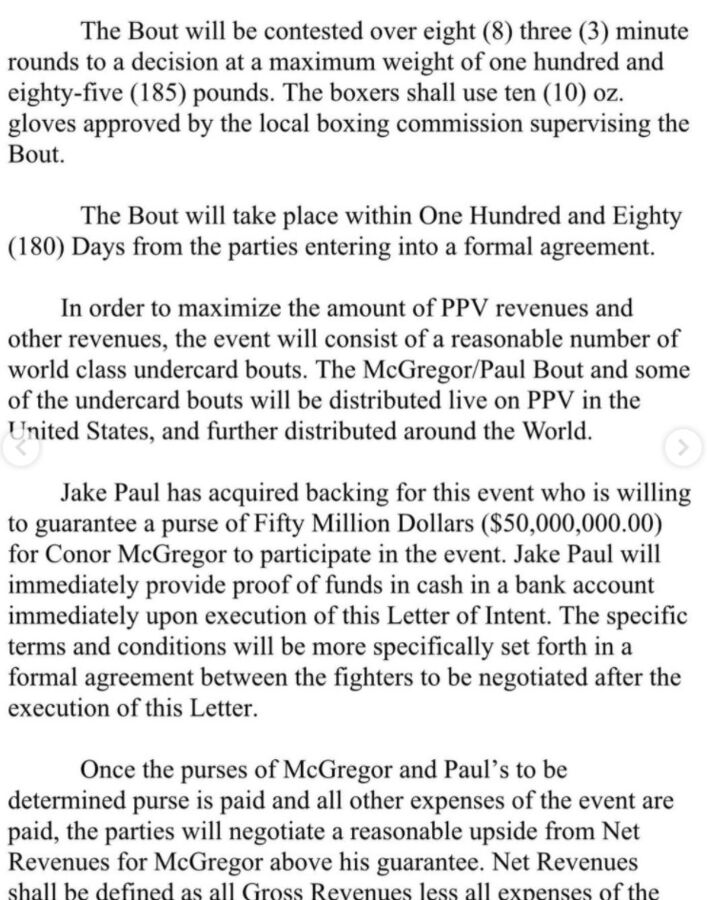 Paul told McGregor that he's made a $50 million offer, trying to get a reaction from the star by claiming he's 'too scared'.
My team sent you a $50 million offer this morning, $50 million contract [with] proof of funds, the biggest offer you've ever been offered, but you're still scared to fight me, Conor.
Paul then went on in an attempt to provoke the MMA superstar by revealing that McGregor has yet to win a fight in a boxing match:
You're ducking me because you don't want to lose to a f**ing YouTuber. You're 0-1 as a boxer. I'm 2-0 as a boxer.
However, McGregor's one defeat one the boxing ring came after his famous fight with Floyd Mayweather, who retired from the ring with a 50-0 record, obviously, McGregor was no match for a man with so much experience in the ring.
However, Jake's brother Logan is also set to fight Mayweather next year, despite many being confused about how the infamous Youtuber is able to get a Pro License in the first place.
Jake, on the other hand, has already won two fights, one against fellow Youtuber AnEsonGib while his second fight against MBA player Nate Robinson on the undercard of the much-anticipated exhibition between Mike Tyson and Roy Jones Jr.
It also seems that Jake may have had McGregor set in his sights for a while as he has also been linked to McGregor's training partner Dillion Danis, who many believe would be a much more suitable opponent for the amateur boxer.
Scott Coker, CEO of Danis' employer Bellator has also suggested that Paul step up and fight Danis instead. He spoke to Sky Sports saying:
If Dillon wants to fight him in boxing we won't step in the way. We will let it happen. It's up to him.
The CEO also proposed that the two even standoff in an MMA exhibition instead claiming that it doesn't always need to be boxing:
Why do they always have to go to boxing? Maybe we could do [one boxing match and one MMA fight] to make it even. Those conversations are ongoing, and have been happening. There is a bit of bad blood between those guys which started years ago.
What happened between Jake Paul and Dillon Danis?
Scott Coker then went on to explain to Sky Sports the story behind the bad blood between the two fighters:
There was a boxing match that [Jake Paul] was fighting in — me and Dillon were going to go. But then we were told Dillon wasn't welcome. They were afraid he would cause trouble. I said: 'That is ridiculous'. I know there is a lot of trash talk back and forth.
Coker then explained that the rivalry between the two could be a great opportunity for a fight:
I spoke with Logan Paul and his manager last year in Miami about it, and they are very interested. I said: 'You guys should come to MMA'. They are talented athletes who have a wrestling background
Conor McGregorhas yet to issue a formal response to the challenge but fans suspect he may have agreed to take on the internet personality after posting an image to Instagram with the caption 'say hello to the man'