The drone footage shows the shark lurking beneath the surfers who, for a time, had no idea that they were sitting just metres from a deadly predator.
Teenager, Zachary Berman, was using a drone to film the surfers when he noticed a great white that was estimated to be about 10 ft long and lurking in the water beneath them that was just 6ft deep.
For around twenty seconds of the video, the surfers had no clue the danger they were in until one man got a little too close and saw the sharks fin break out of the water.
Realising his vulnerable position the surfer gives a head up to the others. One man had his foot just a few away from the creature and upon seeing the great white he paddled for his life.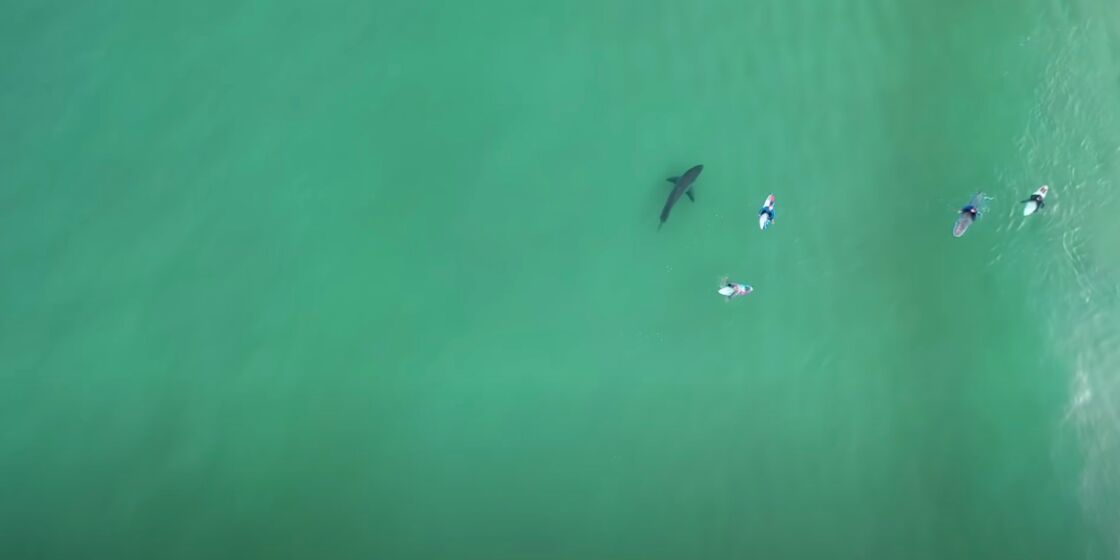 The friends were all starting to try head back to shore as swiftly as possible when the great beast decided to break away giving the surfers a moment to get back to safety.
Berman was exploring the beach with his father when he captured the footage about 50 yards offshore. The adventurous boy was following the shark with his drone when he realised the predator was getting dangerously close to the surfers and urged his father to help bring them back to shore.
The father alerted the situation to the lifeguards who evacuated the beach and went to retrieve the surfers in case of attack. Luckily the shark gave up the chase and nobody was harmed. Zachary stated:
It was really scary standing there with the remote control watching this shark heading towards the surfers. You don't really know what to do in that situation and I just kept on filming it.
The teen later showed his footage to the surfers who were completely shocked at how close they were to the great white.
National Sea Rescue Institute (NSRI) spokesperson Craig Lambinon has issued a warning for beachgoers to stay on full alert for sharks:
Those using the water around the Southern and Eastern Cape need to be cautious due to a high number of great white shark sightings and close encounters at present…A large amount of shark sightings and some encounters have been reported close inshore along the Plettenberg Bay coastline over the past few weeks and on Sunday and with this sighting.
Hopefully, everyone heeds this warning and stays safe in the water as South Africa has proven to be a very popular spot for great whites.
To see the drone footage of the encounter check out the video above!