Charlotte Sunshine, a woman from Scotland, faced a very traumatising experience, where she reluctantly broke her lifelong commitment of not eating meat.
The 26-year-old was left 'vomiting and in tears' after just one bite of her burger, as she grasped that she was chewing on an incorrect item.
The global fast-food giant, McDonald's Edinburgh, took full responsibility of the incident. Here is what happened.
Disappointed Sunshine
Sunshine's boyfriend Calum Donaghy ordered her a veggie deluxe meal and instead got a meat patty in-between the buns. She realised that it was chicken when she got a 'Quorn like' taste in her mouth.
The teen frantically Googled the ingredients to recheck her order, but her effort was in vain. Soon after, Sunshine fell extremely sickand said:
It's dangerous. If you're mislabelling food, then it could be something someone's allergic too. I know chicken isn't a common allergy, but as I'd never eaten it, I could have been severely allergic to it. I could have been hospitalised.
I used to really enjoy the veggie deluxe when I couldn't be bothered cooking, but I'll never eat at McDonald's again. I was feeling ill the whole night and then right into the next day.
Sunshine on Twitter
An enraged Sunshine, with the username @thxcctinkerbell, took to Twitter and revealed her horror. The tweet garnered umpteen likes and opened up a conversation.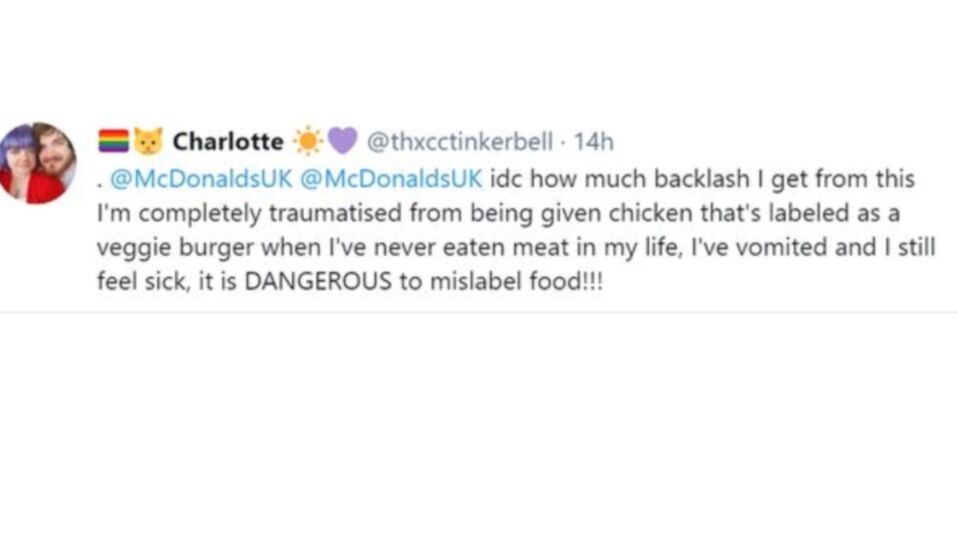 One user named @becciPaints replied:
I'm so sorry this happened to you, I can't even imagine how awful that must be. I hope you put a complaint in lovely, this shouldn't happen.
McDonald's replied:
We recognise that it is not acceptable to serve meat when a vegetarian product has been ordered, and we sincerely apologise to the customer for the mistake that was made in this instance.
Our Customer Services Team is currently in contact with the customer to help find a resolution.
Sunshine still wasn't satisfied with McDonald's answer. She said:
The idea of eating a dead animal to me is so alien, but that's why I'm not a preachy vegetarian because I'm aware it's so incomparable to what most people experience.
The lack of reaction from McDonald's has really upset me because It's a really important thing to me. They haven't taken it seriously enough.