Bradford man, Luke Horsfield, is warning others after he received abotched hair transplantfrom a clinic in Turkey.
The botched transplant left Luke's hair worse for wear
Horsfield, 26, has been bothered for years about his receding hairline and decided he needed to do something about it. After finding an opportunity online he forked out £1,250 for a transplantin Turkey, just a fraction of the cost in the UK.
The 'professionals' at the clinic in Turkey took many hairfollicles from the back of Luke's head and moved them to the front, leaving him with a massive bald patch and many scars. The botched procedure also resulted in further thinning of the young man's hair which he had to have repaired by another clinic.
The clinic also had very little aftercare
The Turkey clinic where Horsfield received his treatment claims to "offer the best medical care abroad for you, your family and loved ones" but Horsfield recounted having no care at all.
I did everything they told me to do as aftercare once I had the operation. But after four months, I saw literally no growth. I rang them to ask why it hadn't grown, but I was told this was normal.
He continued:
It got to six months and there was a little bit of growth but not much and after a year it still hadn't grown. I was left with scars and bald patches.
The 26-year-old had contacted the clinic with his concerns and asked about a refund but his complaints fell on deaf ears. After much pestering, the company offered Horsfield a measly £400 refund.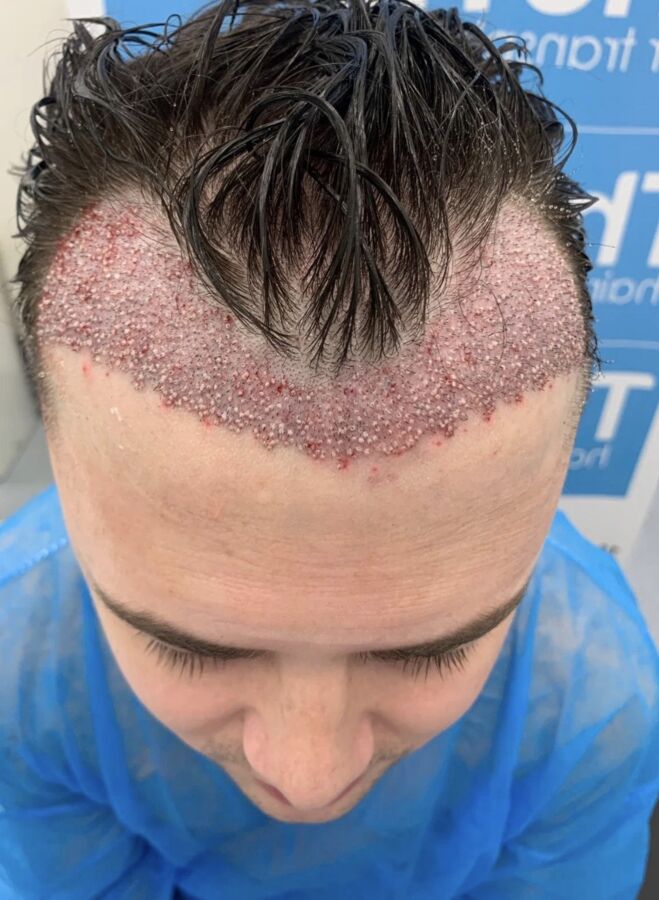 Luke is now urging other men to do their research
Luke stated that his hairline was interfering with his self-esteem and he decided he needed to remedy the situation. After looking online, the clinic seemed to have good reviews on Trust Pilot. Little did he know that reviews can more often than not, an unreliable source of information:
What I didn't know then was that anyone can post a review and companies can ask for reviews to be taken down, so I feel like I wasn't getting a full picture.
Horsfield left a review of the company on Youtube where he warned other men about the dangers of not conducting the proper research before investing money into cosmetic procedures.
Another clinic in Yorkshire took note of Luke's unfortunate circumstance and offered to fix the botched transplant. Dr Arshad, who repaired Luke's hairline, stated:
I see so many clients in this unfortunate position on an almost weekly basis.Before embarking on a hair transplant it is imperative that research is carried out on the clinic and the surgeon. Hair transplant is very safe surgery but is not free of potentially serious side effects if it is not conducted by a qualified surgeon in the correct way.