Staff at Balmoral Castle recently took to Twitter to ask people to quite literally, stop pooping on their lawn. Or at least, close to the pathways and monuments that are frequented by tourists and locals alike. The Queen herself even comes by on occasion.
The rising trend of relieving one's self out in the open is occurring largely due to the fact that most of the UK's public facilities are closed in an effort to contain the spread of the coronavirus. However, the result could be harmful to the environment and is honestly, just gross...
Other than the fact that people are pooping and peeing near pathways and monuments frequently visited by others, is that when people tend to clean themselves after, they are using wipes that are non-biodegradable that are being left behind in the foliage.
Regarding the litter, the Balmoral Castle Twitter page posted photos and voiced their disgust with the public:
Disappointed to see so many wipes discarded on the Estate today. Next to paths and monuments. Please remember there are no public toilets open for miles around at the moment.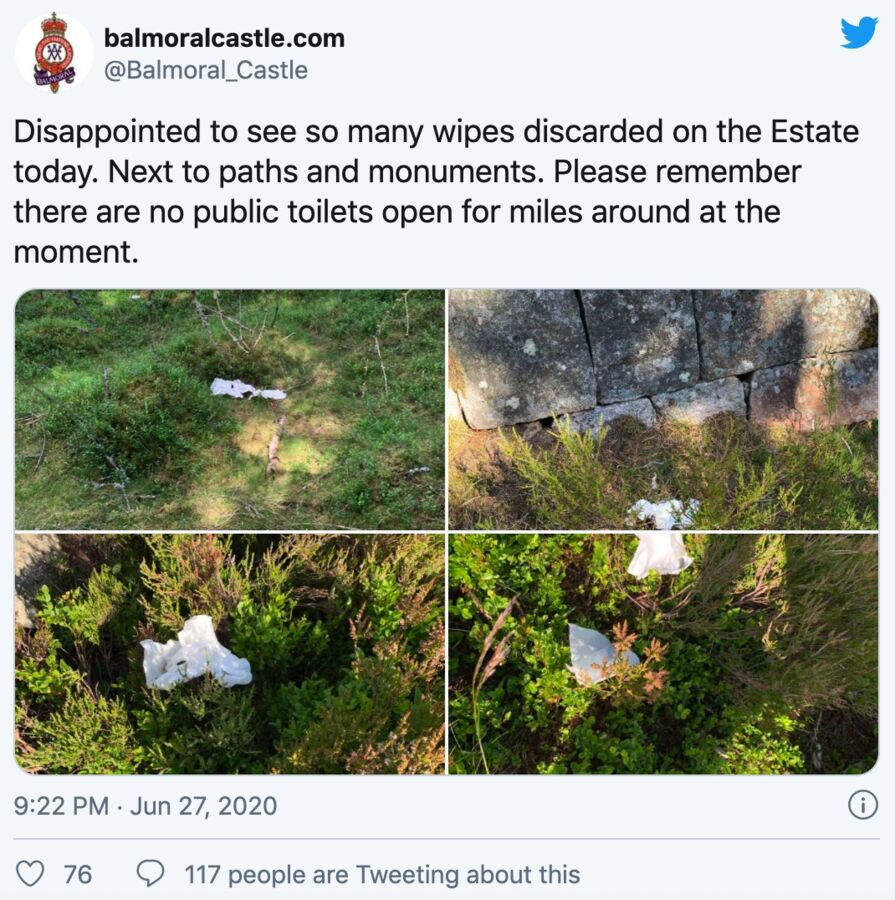 The castle did acknowledge that some people may need to relieve themselves while walking around the grounds and in light of that fact as well as the fact that they're facilities are not currently operational they stated:
If you need to pee, please do so at least 30 metres from lochs or streams," they added in a tweet on Sunday. "If you need to defecate, do so as far away as possible from buildings, paths, water courses and farm animals. Bury faeces in a shallow hole and replace the turf.
The Queen and members of the royal family spend some time each year at the estate and we can only imagine how disappointed she would be if she were to come across such a scene while walking the grounds.