With new coronavirus variants emerging and spreading at alarming rates, the need to diagnose strains is becoming evident. That's why researchers at Harvard University, Massachusetts Institute of Technology (MIT), with cooperation from multiple Boston hospitals, have developed an at-home COVID test that can detect coronavirus infection as well as which strain is responsible.
Minimally Instrumented SHERLOCK
The new test aptly named Minimally Instrumented SHERLOCK or miSHERLOCK works with just a little bit of spit and can differentiate between the Alpha, Beta and Gamma COVID variants. Even better, the test could cost as little as £4.30 and deliver results in just an hour.
Currently, hopes are that miSHERLOCK could soon replace the current standard PCR tests that take up to two days to deliver accurate results. Not to mention the test doesn't require invasive nose swabs, which could make it much more popular among the general public.
During experiments, the miSHERLOCK test successfully differentiated between three different coronavirus strains and could be easily reconfigured to detect emerging, threatening strains like the Delta variant. The Harvard Gazette explained that the test eliminates the need for samples to be sent to labs, and its results can be read and approved via a smartphone app.
Co-first author Helena de Puig, a postdoctoral fellow at the Wyss Institute and MIT, explained:
miSHERLOCK eliminates the need to transport patient samples to a centralized testing location and greatly simplifies the sample preparation steps, giving patients and doctors a faster, more accurate picture of individual and community health, which is critical during an evolving pandemic.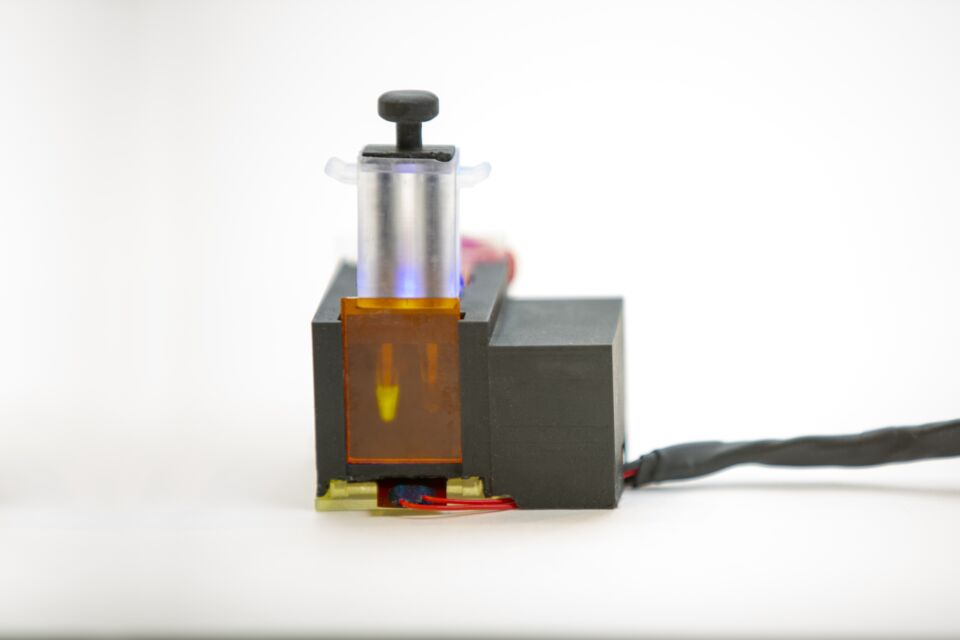 The report, published in Science Advances, also states that the miSHERLOCK test is 96% effective in identifying a coronavirus infection and correctly identified uninfected people 95% of the time.
One of the paper's authors and developer of the miSHERLOCK, Xiao Tan, commented: 'Our goal was to create an entirely self-contained diagnostic that requires no other equipment.'
Essentially the patient spits into this device, and then you push down a plunger and you get an answer an hour later.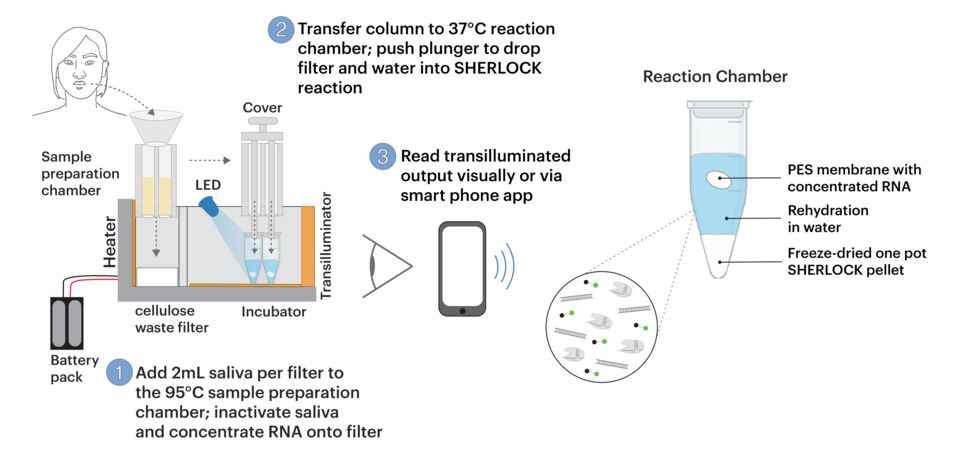 Designed for a low-resource world
The miSHERLOCK was designed for the real world, where resources, especially in healthcare, are scarce in many parts of the world. The COVID test, which can be made using a 3D printer, costs just £10.77 or $15 to create using commonly available materials, and re-use of the hardware can bring the price down to $6 or £4.30 per test. Wyss Core Faculty member and senior paper author Jim Collins explained:
When the miSHERLOCK project started, there was almost no SARS-CoV-2 variant monitoring happening. We knew that variant tracking was going to be incredibly important when evaluating the long-term effects of COVID-19 on local and global communities, so we pushed ourselves to create a truly decentralized, flexible, user-friendly diagnostic platform.
By solving the sample prep problem, we've ensured that this device is virtually ready for consumers to use as-is, and we're excited to work with industrial partners to make it commercially available.