The world of sport has been in mourning since Sunday 26th January when Kobe Bryant, five-time NBA champion, was found dead following a helicopter accident in Calabasas, California. His daughter, Gianna, also lost her life in the accident.
Although the entire world has been paying tribute to him on social media and we have been reminded of some of the reasons that he is a legend in the sport, several tweets have also been posted that have irritated internet users, such as that posted by actress Evan Rachel Wood.
'He was a sports hero. He was also a rapist'
The actress, who rose to fame as a result of her role in the series Westworld, has sparked a real outcry on Twitter. Barely a few hours after Kobe Bryant's death was announced, Evan Rachel Wood posted a 'mixed' tribute to him.
'What has happened is tragic. I am heartbroken for Kobe's family. He was a sports hero. He was also a rapist. And all of these truths can exist simultaneously.'
Internet users immediately expressed their bewilderment at her tweet that some deemed inappropriate. Especially since the 32-year-old actress originally posted the same message, but without the opening 'What has happened is tragic' and had added a link to an article about the rape allegations against the athlete.
In 2003, Kobe Bryant was accused of sexual assault by a 19-year-old woman but no further action was taken due to a lack of evidence. The athlete, who, at first denied having had any relationship with the accuser, finally ended up admitting to a 'consensual relationship' and adultery, since he had been married for several years at the time. An amicable settlement was finally reached between the basketball player and the young woman.
An American journalist sparked controversy
Felicia Sonmez, a journalist at the Washington Post, reported on this story on Twitter. In her tweet, which was deleted not long after she had posted it, she also published a link to the Daily Beast entitled 'Kobe Bryant's Disturbing Rape Case: The DNA Evidence, the Accuser's Story and the Half-Confession'.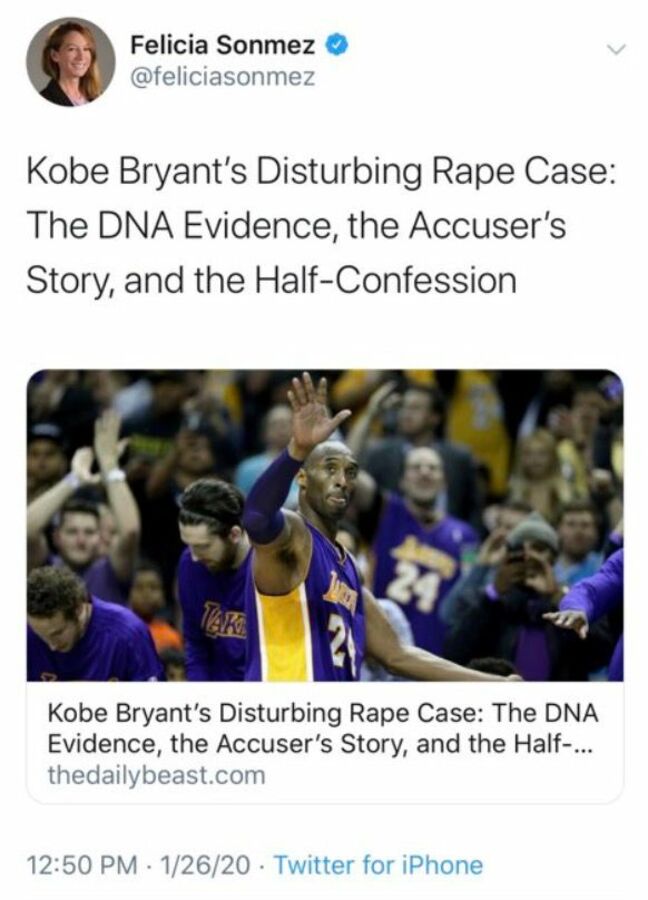 After it was retweeted thousands of times and received thousands of negative comments, the journalist even posted a mini-thread to justify herself before finally deleting everything.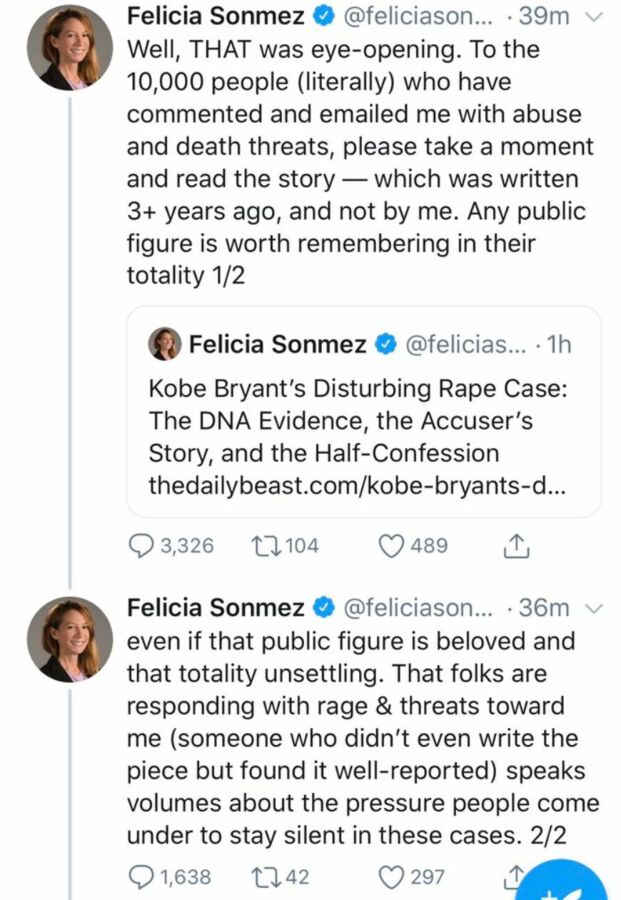 'Well, THAT was eye-opening. To the 10,000 people (literally) who have commented and emailed me with abuse and death threats, please take a moment and read the story - which was written 3+ years ago, and not by me. Any public figure is worth remembering in their totality even if that public figure is beloved and that totality unsettling. That folks are responding with rage & threats toward me (someone who didn't even write the piece but found it well-reported) speaks volumes about the pressure people come under to stay silent in these cases.'
Tracy Grant, the managing editor at the Washington Post, told the Daily Mail on Sunday that 'National political reporter Felicia Sonmez was placed on administrative leave while The Post reviews whether tweets about the death of Kobe Bryant violated The Post newsroom's social media policy.'