A 'piggy bank' of Viking era silver coins has been discovered on the Isle of Man field.
The find was made by a former police officer, Kath Giles who is now a metal detectorist credited for an equally startling discovery last year.
The 1,000-year-old pieces were found in April, but details have now been made public for the first time at a coroner's hearing.
The 87 coins, which were found in a field in the north of the island were minted in England, Dublin, Germany and the Isle of Man.
Giles previously made headlines when she discovered a collection of gold and silver Viking jewellery, which was declared treasure in February.
A wonderful find
It is thought the silver pieces, which date from between AD 1000 and 1035, had been deliberately buried by the owner for safekeeping.
American coin specialist Kristin Bornholdt-Collins, who helped to identify the provenance and age of the pieces, said the hoard may have been used as a Viking Age 'piggybank,' which would account for some of the older coins in the collection.
Dr Bornholdt-Collins said once buried the hoard may have been 'added to over time,' although most of the pieces were a 'direct reflection' of what was circulating in and around the island at the time.
Manx National Heritage's curator of archaeology Allison Fox said it was a 'wonderful find.'
It would help increase understanding of the 'complex Viking Age economy' in the area surrounding the Irish Sea, she added.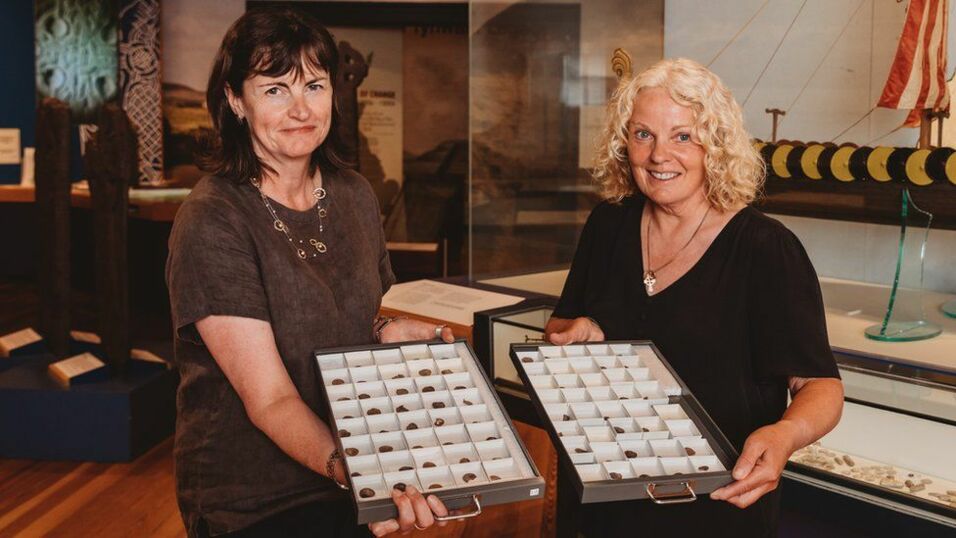 Property of the Crown
Other items found included 13 pieces of silver arm rings, which were also used as currency during the period.
The collection will be put on display at the Manx Museum in Douglas before being taken to London for valuation at a later date.
The Isle of Man is located in the Irish Sea between Great Britain and Ireland. The island is not part of the United Kingdom or European Union, but has the status of 'crown dependency,' with an independent administration.
Its inhabitants are British citizens.
Under Manx law, finds of archaeological interest must be reported to Manx National Heritage and those legally declared treasure at an inquest become the property of the Crown, with the finder rewarded.