The village in question was once known as Derwent and it was located in Derbyshire before being demolished to make way for the Ladybower Reservoir.
A village underwater
This allowed water supply access to neighbouring cities such as Derby, Sheffield, Nottingham and Leicester. But Derwent wasn't the only city to meet this fate. A village nearby, know was Ashopton at the time, also only exists underwater. The Ladybower Reservoir is today the 'largest expanse of water' in the Peak District.
According to Lets Go Peak District the tiny village of Derwent had:
Twisting streets of pretty cottages, alongside which the River Derwent flowed under stone bridges. It had a small but tight-knit community, with a number of houses and a school. The village church of St John and St James was built in 1757 and seated 140 parishioners.
Remnants of the village can still be seen
To this day, when water levels drop, remnants of the village are still visible such as old walls, paths and pump houses. Most recently, in 2018, when water levels dropped significantly, parts of the village were exposed for the first time in years prompting an influx of visitors to travel from far away to catch a glimpse of the uncanny sight.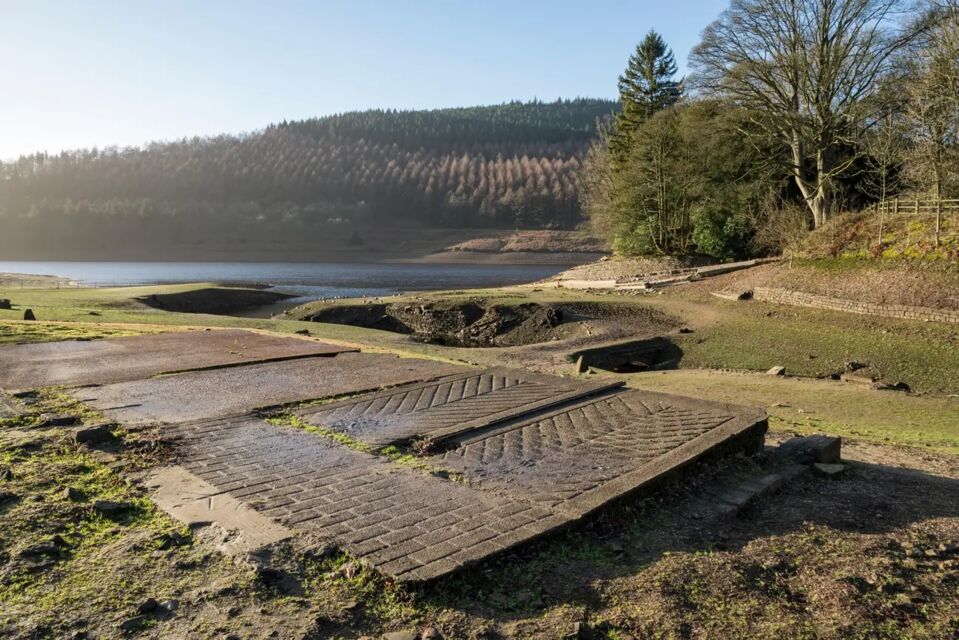 Dave Aston, of the Peak District's Upper Derwent Visitor Centre, explained during an interview with the BBC that the village has only been clearly visible sporadically throughout the years. According to him:
It is a rare occurrence to see the ruins of Derwent village. The long dry spring and summer has lowered the water levels of the reservoir slowly and in the last four weeks the remains have become visible. Visitor numbers are soaring because of it. People are walking in the exposed village.