Can't resist the temptation to follow in the footsteps of Fabien Barthez, Bruce Willis, Jason Statham, and Britney Spears, and free your skull from all that hair? During this lockdown, we have all had to adjust to life without a barber, and this radical idea must have crossed the mind of more than one under confinement. Some footballers, like Morgan Sanson, has even participated in the 'boule challenge' on Instagram, inviting team-mates and loved ones to join the 'bald club.'
It will only take you a few minutes to get rid of all your hair using an electric razor such as the multi-purpose HATTEKER, the professional Panasonic ER-1411, or the Braun all-in-one. Nothing could be simpler if you follow our guide!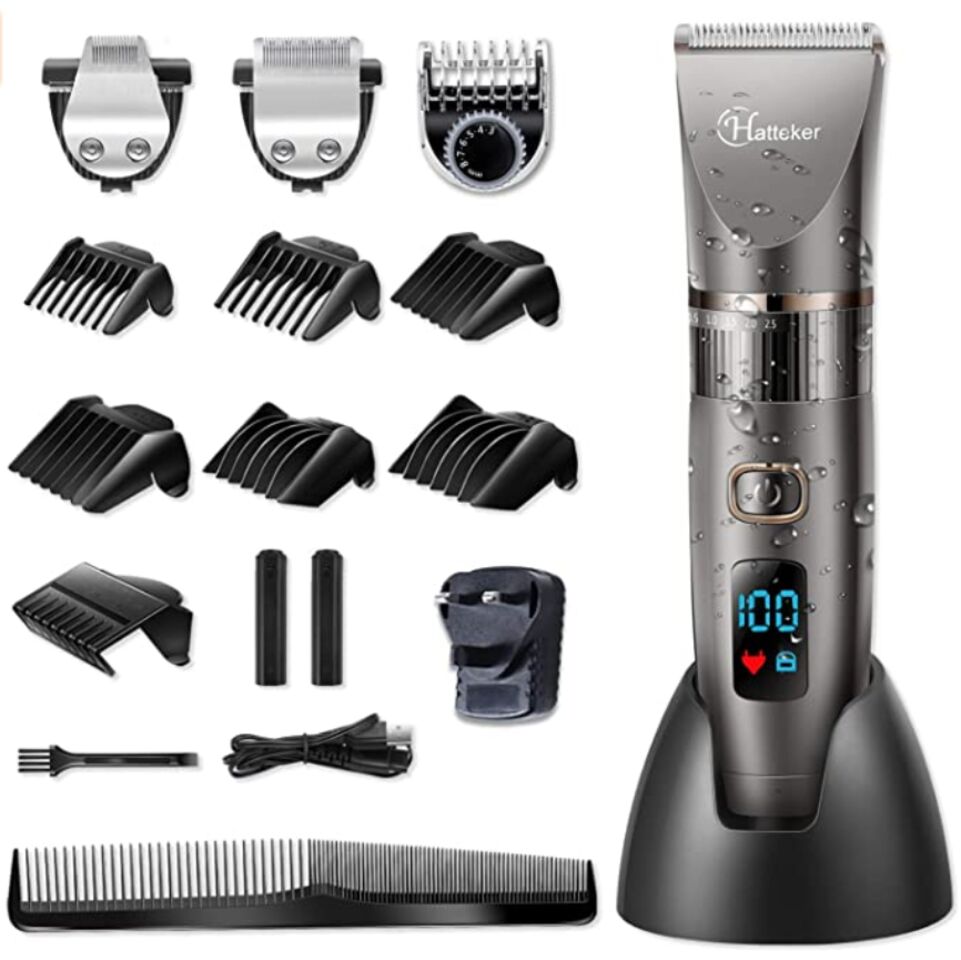 1. Getting set up correctly
Don't forget to fully charge your electric razor first, since you don't want it dying halfway through, leaving you looking like Robert De Niro in Taxi Driver. Use a large towel, or an apron, and choose a room that's easy to clean, and which has a mirror. Ideally, position a mirror in front AND behind you, as this can make things a lot easier.
To make the shaving process easier, it is important to wash your hair beforehand, so that the hot water opens up the pores. If your hair is long, it is also important to cut it with scissors first, so as not to clog the electric razor. You can then choose how much you wish to keep, by adjusting the razor's blade setting. If you're not sure yet, choose the longest setting. You'll have plenty of time to adjust later.
2. Start gradually
Once you've checked that the blade is securely attached, and you've placed a towel over your shoulders, all that's left to do is begin! For a smooth start, begin at the front of the skull, since the hair is thinner there. Go from the top of the forehead, and work your way up to the back of the head. Repeat this several times, so that no hair is missed! Be careful not to press on the razor too hard, so as not to break it, or hurt yourself.
3. Don't miss any spots
The sides of the head require more vigilance since the area around the ears is fragile. Move from the bottom to the top of your head, from your neck to the top of the skull. Don't hesitate to use your other hand to help get to the parts that are more difficult to reach. This is not an easy task, which takes a bit of time to get used to, so don't worry if you don't get the technique right away.
For the back of the head, the process becomes even more complicated. If you can get someone to help, now is the time. If not, start from the bottom of the neck, and gently work your way up to the top of your skull, shaving in parallel lines (ideally).
4. Adjust as you go along
Once you have shaved your entire head, rub it (gently) with your hands to eliminate as many hairs as possible. Then run your head under water to remove any hairs which are still attached, and dab with a towel. Check that the hair has been evenly trimmed. If this is not the case, it's time to grab the razor again! Be careful not to shave the same area too many times, since the scalp is sensitive.
5. Maintenance
Because of this sensitivity, it is advisable to keep using shampoo when washing your skull, rather than a body wash. If you like the look of your new hairstyle and want to keep it for a while, shave once a week. The process will become much simpler.
Another step will be added to your routine, however: since your head is no longer protected from dry air, pollution, and the sun, you'll need to protect it with sunscreen, or a hat. Also remember to moisturise it well, for example with an aloe vera gel, a Weleda after-shave balm, or a Nivea multi-purpose moisturising cream.
As is the case with most razors, the hair remains about half an inch long. For a clean shave, use a manual razor and shaving gel. Most importantly, avoid cutting yourself. Use gentle movements with equal pressure, and follow your head's contours. Again, make sure the results are even. It would be a shame to end up with an unwanted patch of hair somewhere on your head!