Megan Rapinoe Is Slammed Over Her Comments About Virgil Van Dijk Deserving The Best Men's Award
Social justice warrior Megan Rapinoe has always been outspoken about women's rights, homosexuality and LGBT rights. Ironically, she's now being accused of making a 'sexist' comment about Virgil Van Dijk at "The Best" ceremony.
"The Best" awards rewarded the best players according to FIFA.Lionel Messi was crowned right in front of favorite Virgil Van Dijk and his eternal enemy, Cristiano Ronaldo.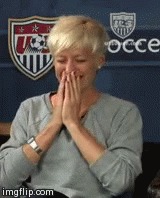 Sexist remarks
As in any ceremony, the athletes present walked on the red carpet and gave interviews. BothAlex Morganand Megan Rapinoe answered reporters' questions.
When one journalist asked them who they thought should win "The Best" award, the two world champions responded that they wanted to see Virgil Van Dijk win.
But Megan Rapinoe's reason for naming him was somewhat inappropriate. Indeed, she explained that he should take home the award for best player "just for how cute he is."
Outraged Twitter users called her out for being a hypocrite, pointing out that if the tables were turned, she'd accuse Virgil of being a misogynist. She has yet to apologise for her comment.
Indeed this is a double standard that may anger even feminists.
---