Marmite is a tricky condiment, while you either love it or you hate it, it's an iconic staple of UK cuisine. And even the most Marmite avoidant Brits would defend their home country in a standoff between NZ Marmite and the detestable Australian Vegemite.
So to reward UK citizens for their patriotism,Marmite has released the newest addition to weird marmite flavoured products, Marmite Houmous! And, while Marmite may have dropped the ball on their yeasty peanut butter, we have to admit Marmite Houmous may just be a great combination.
Here's how to get your hands on it
The condiment has all the ingredients of a decent houmous such as a healthy squirt of lemon, chickpeas, tahini and garlic puree it also promises a salty, umami kick from an added dash of Marmite and you know what? We aren't mad about it.
If you're willing to take a risk and give this yeasty beast a try all you'll need to do is head to your nearest Tesco where it can be found for just £1.50!
Marmite has a history of risky combinations
Marmite has clearly been using lockdown to get creative and has come up with a bunch of collaborations, some more shocking than others.
Announced in March, Marmite released their own yeast-based cream cheese spread through M&S, which admittedly, tasted delicious on a bagel.
However, if you're looking for a nastier product to entertain you Marmite also recently launched their own men's body wash and body spray with none other than Lynx.
The product is called Lynx Africa and Marmite and described to be for 'all Marmite lovers':
what's best, the irresistible fragrance of Africa Marmite is suitable for him, for her, for all the lovers.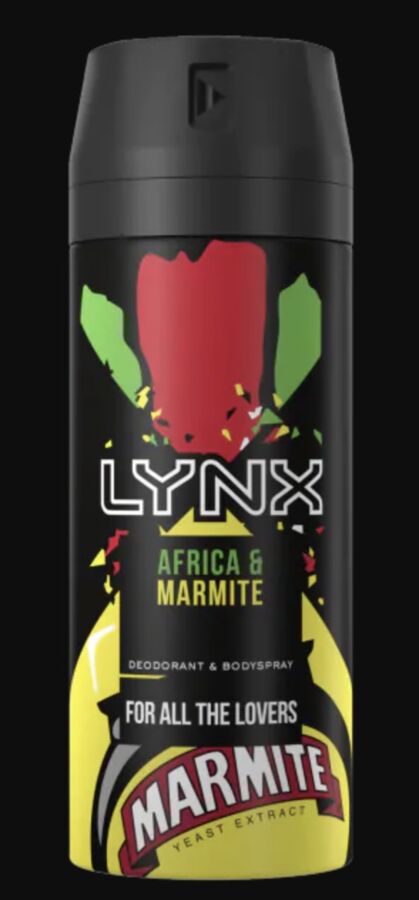 The confusing fragrance boasts of scents of green herbs, sandalwood, white moss and Marmite. Very Alluring. Lynx's brand manager, Jamie Brooks commented:
By combining two iconic legends that have shaped dating and breakfast culture across the nation, we have created a product like no other that is sure to get lovers and haters spreading the news.
And Brooks may just be onto something, while surely nobody wants to purchase the ludicrous spray Marmite and Lynx sure would get a lot of free marketing from everyone talking about it!