Tom Hanks shared a heartbreaking message on Instagram revealing he and his wife have tested positive to Coronavirus. The star while working on a Baz Lurhmann film about Elvis on the Gold Coast, shared a picture of medical trash with a glove in it with the following caption:
Hello, folks. Rita and I are down here in Australia. We felt a bit tired, like we had colds, and some body aches. Rita had some chills that came and went. Slight fevers too. To play things right, as is needed in the world right now, we were tested for the Coronavirus, and were found to be positive. Well, now. What to do next? The Medical Officials have protocols that must be followed. We Hanks' will be tested, observed, and isolated for as long as public health and safety requires. Not much more to it than a one-day-at-a-time approach, no? We'll keep the world posted and updated. Take care of yourselves! Hanx!
Rita shared this message on Instagram: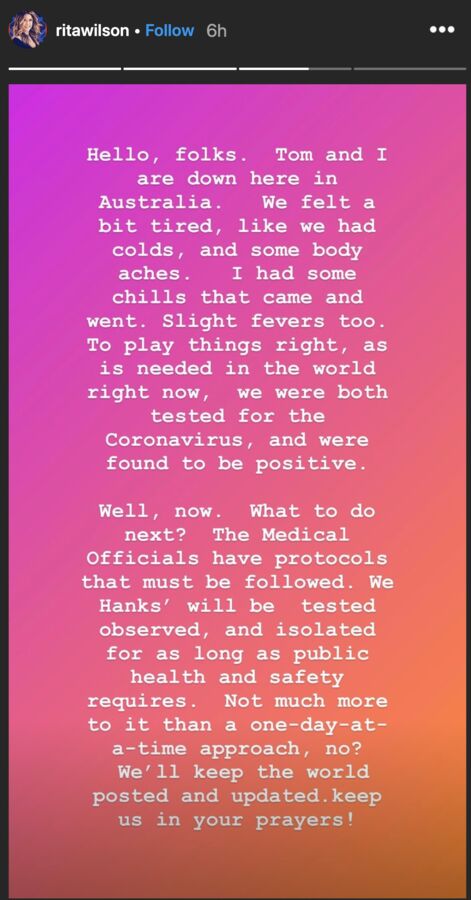 The 2-time Best Actor winner and his wife will now spend time in quarantine, but it won't just be the two of them... it seems one of his Cast Away co-stars will be with them!
The staff at Gold Coast Hospital, where Tom and his wife are staying, had the hilarious idea to bring back Wilson, the famous volleyball from the 2000 film. If it helped him keep his sanity on a deserted island, a hospital room should be easy! (Well, Rita is there too...)
Furthermore, last night the NBA announced that the season is suspended until further notice after Utah Jazz centre Rudy Gobert was tested positive for coronavirus.
Australia has recorded more than 130 cases of coronavirus. President Trump has now decided to suspend all travel from Europe for the next month.
We're still most worried for Tom and Rita!