The Royal Mint has followed up their Music Legends series by releasing a collection of coins celebrating the late David Bowie. Bowie makes for the third in the Royal Mint's collection after UK icons Queen and Elton John.
And, to celebrate the launching of the commemorative coins it would only be fitting that the man who released Life on Mars, Starmanand Space Oddity would have one of his coins sent into space.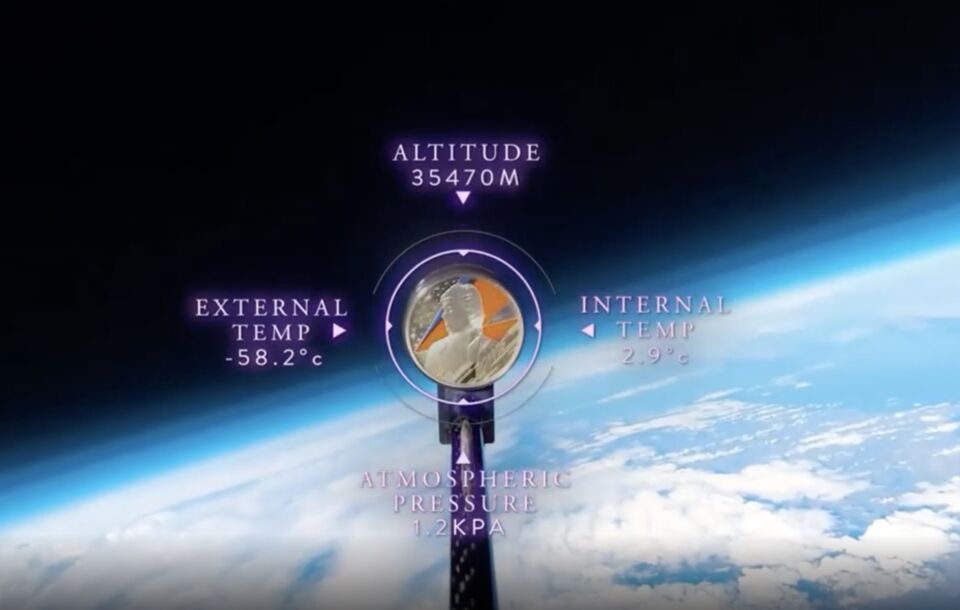 The coin, marked by Ziggy Stardusts' iconic blue and red lightning bolt, was sent into the atmosphere and reached an altitude of 35,656m before returning safely to Earth. The space-kissed coin will soon be given away as part of a competition on the Royal Mint's Facebook page so make sure you keep your eyes peeled!
The coin is the third in the Royal Mint's Music Legends collection and sports an image of the famous artistic chameleon, presumably from his time recording in Berlin. And of course, nothing would be indicative of David Bowie without being accompanied by the lightning bolt motif that accompanied his Aladdin Sane album.
Using some of the latest technology, the lightning bolt is also carefully laced with stardust in order to create a beautiful glimmering effect. Divisional Director of Commemorative Coin at The Royal Mint, Clare Maclennan stated:
We are thrilled to unveil the third coin in The Royal Mint's 'Music Legends' series, honouring the intergalactic legacy and career of David Bowie. In recognition of Bowie's first hit single 'Space Oddity', we felt it was fitting to send his coin into space and celebrate the Starman in his own pioneering fashion. David Bowie's music has inspired and influenced generations of musicians and we hope this commemorative coin will be cherished by fans around the world.
The Royal Mint
The Royal Mint is the perfect company to acknowledge the musicians that shaped the UK as they most likely witnessed it in full. The coin company has been around for around 1,100 years and is now the world's largest export mint, supplying coins to both the UK and a number of international countries.