Five-time NBA champion Kobe Bryant wasn't just a celebrated basketball player that will go down as one of the greatest, but a cultural phenomenon that transcended the sports world. Following news of his tragic death after a helicopter accident in Calabasas, California, the public has been mourning his surreal passing.
During a helicopter trip to a training camp with his daughter Gianna on board in the early morning of January 26th, the vehicle crashed, killing not just Kobe and Gianna but 7 other passengers flying with them. So far, details around what caused the crash remain cloudy and could take months to determine, but according to an interview with a professional who saw the scene unfold, the end for the entire crew on board would have been quick and painless.
Immediately following the announcement, fans and celebrities alike took to social media to express their grief. As often the case is with social media, there will be some people who share polarizing opinions that cause uproar among the general public. Famous actress Evan Rachel Wood took to Twitter following the news and shared a message that had a lot of people upset, leading to her locking down her Twitter account.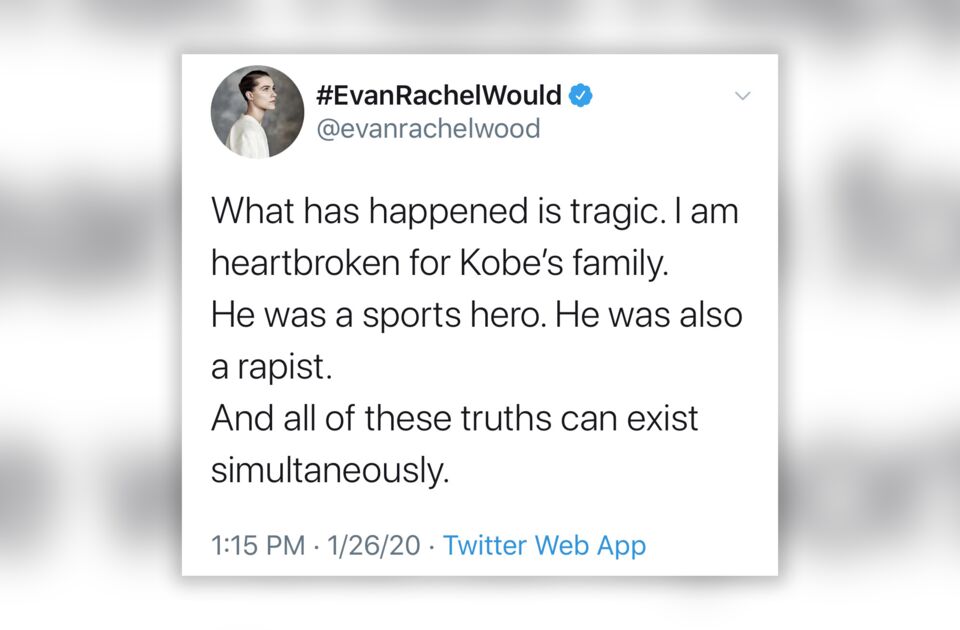 Washington Post reporter Felicia Sonmez called into question his past allegations in a tweet that, while not yet confirmed, may have gotten her suspended from the publication.
However, one comedian's response to the news made the former two referenced look tame in comparison. Ari Shaffir post a tweet celebrating the death of Bryant, stating that it happened '23 years too late'.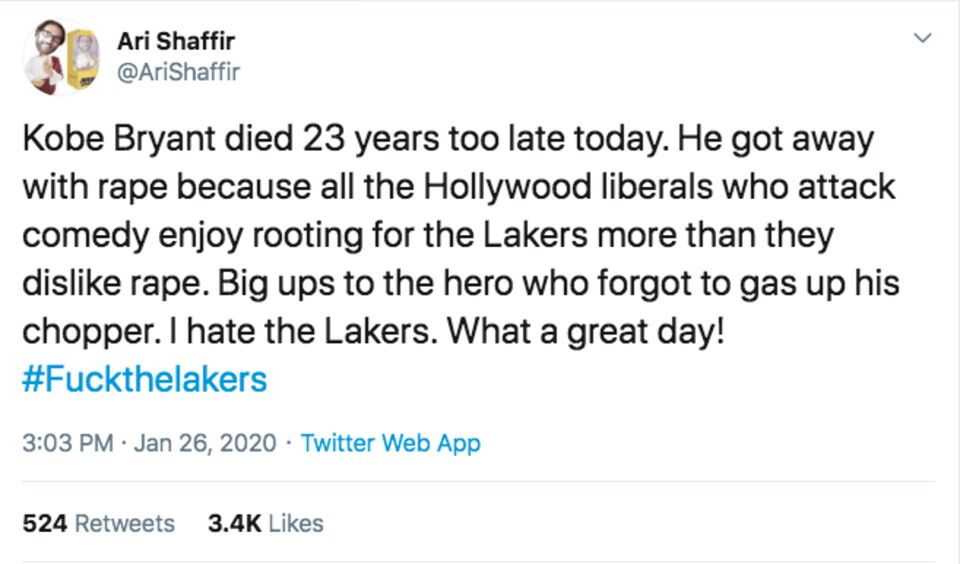 Who is Ari Shaffir?
Ari Shaffir is a stand-up comedian, known best as a frequent guest on Joe Rogan's podcast The Joe Rogan Experience as well as for hosting Comedy Central's Youtube series This Is Not Happening.
Friends of Shaffir have described his comedy style and personality as 'troll-like', which they cite as the reason why the comedian may have taken to social media immediately to incite a negative reaction from the general public.
It seems to have worked, and Shaffir decided to double down and release a subsequent video where he made even more offensive remarks regarding Bryant's death and the rape allegation against him from decades earlier.
An apology too late?
To say that there's been backlash following his two statements would be an understatement. The comedian has received numerous death threats online and has had multiple comedy club dates cancelled due to security reasons.
On January 30th, the comedian issued a statement apologizing for the numerous comments he made about Bryant's death, claiming that this is just 'something he does when celebrities die':
Every time a beloved celebrity dies I post some horrible s*** about them. I've been doing it for years now. I like destroying gods. And right when a famous person dies they're at their most worshipped. 'So as a response to all the outpouring of sympathy on social media, I post something vile. It's just a joke. I don't really hate any of the people.
Some of them I've never even heard of and I have to look them up after I see all the RIP posts. Some of them I actually really admire and I'm bummed they've passed. It doesn't stop me from trying as quickly as I can to write some terrible s*** about them. They're all just jokes though. And I would never tag anyone in them that's at all associated with the person. 'I'm not looking to hurt anybody mourning a loved one. Just looking to post some inappropriate jokes for my fans. They've come to expect it from me.
The real reason he made the comment? He just really hates the Lakers:
The only thing I had against Kobe was that he torched my teams over and over again. He made me hate the Lakers with all my heart. Nobody came out to comedy shows in LA when he and Shaq were winning titles. And then nobody came when he was doing it on his own. I loved saying how much I hated the Lakers. Haring the Lakers was my favorite thing to root for.
It seems as though the damage is already done. Could this questionable apology possibly undo the harm that he's done to his career?