Feeling a bit blue? Don't ponder too much about it and take a look at this video. We promise you that it will make you smile. And it's a safe bet that you will even watch it several times. Posted in 2015 on Youtube by Dan Zaleski, it has been seen more than 33 million times! And we understand why.
Magic show at Barcelona Zoo
While visiting the Barcelona Zoo, a visitor wanted to get to know an orangutan. And even though a pane separated them, humour and tenderness brought them together. The tourist wanted to offer the monkey a little magic trick. In front of the primate's big eyes full of attention, the man shows him a lychee berry, slips it in a goblet and covers it with its cap. He shakes everything, always under the orangutan's cute and curious gaze.
By a sleight of hand, the young man manages to discreetly remove the fruit from the cup without the animal seeing him. He shows his new red and hairy friend that the lychee has disappeared from the container, which is now empty. Though the visitor's magical talents will not earn him a place in the pantheon of great magicians, it is the reaction of his only audience that is show-worthy!
Initially puzzled, the orangutan tries to grab one of his feet and then falls backwards, bursting into laughter and showing us all his teeth! We do not know if he reaches out to catch himself or if it is to caress his entertainer through the glass.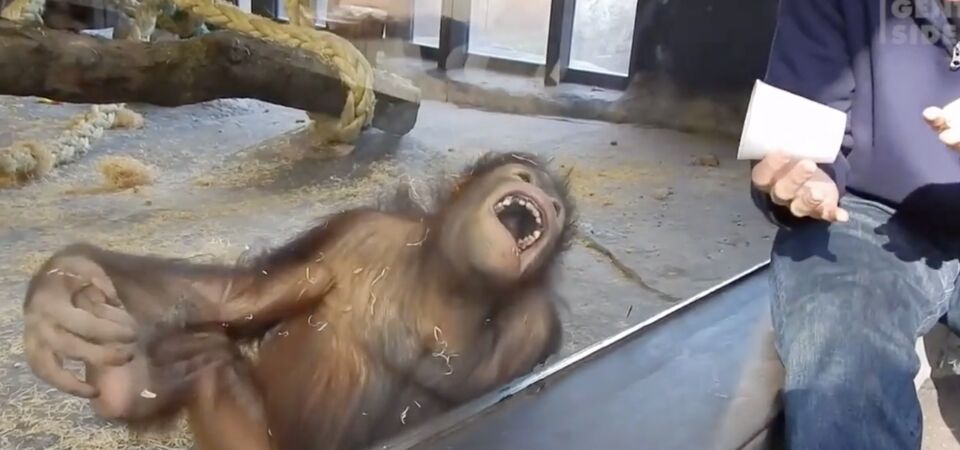 Once again, 'the red man of the forest,' which is what his name means in Malaysian, shows us that he has more than one common trait with his human cousin.
To raise public awareness of thisendangered species, Dan Zaleski, who posted this video, commented with a link to the website of the Orangutan Foundation International (OFI), a foundation that advocates for the preservation of these primates and their natural habitat.