Thousands of people have been breaking COVID rules to head to a village near Dhaka, the capital of Bangladesh. Why? They're all trying to get a closer look at the world's tiniest cow.
Dwarf cow
Rani, a Bhutanese cow that is usually farmed for meat, has taken the world by storm because of her size. She suffers from dwarfism and is 20 inches tall, and 26 inches long—smaller than most baby calves despite being almost two years old.
Ever since pictures of Rani went viral on the internet, Bangladeshi locals have been rushing to Shikor Agro farm in Charigram to see the animal with their very own eyes. Rina Begum, a visitor from a neighboring town said:
I have never seen anything like this in my life. Never.
Currently, a 24.1 inch cow from the Indian state of Kerala holds the Guinness World Record for being the shortest in the world, but the organisation is reportedly reconsidering its position.
Village turned tourist destination
Meanwhile the residents of the village have become sick and tired of the tourist frenzy. MA Hasan Howlader, the owner of Rani and manager of Shikor Agro farm, said on 7 July that over 15,000 people have visited Rani in the past three days and he's exhausted. He told AFP:
People come long distances despite the coronavirus lockdown. Most want to take selfies with Rani.
Honestly speaking, we are tired.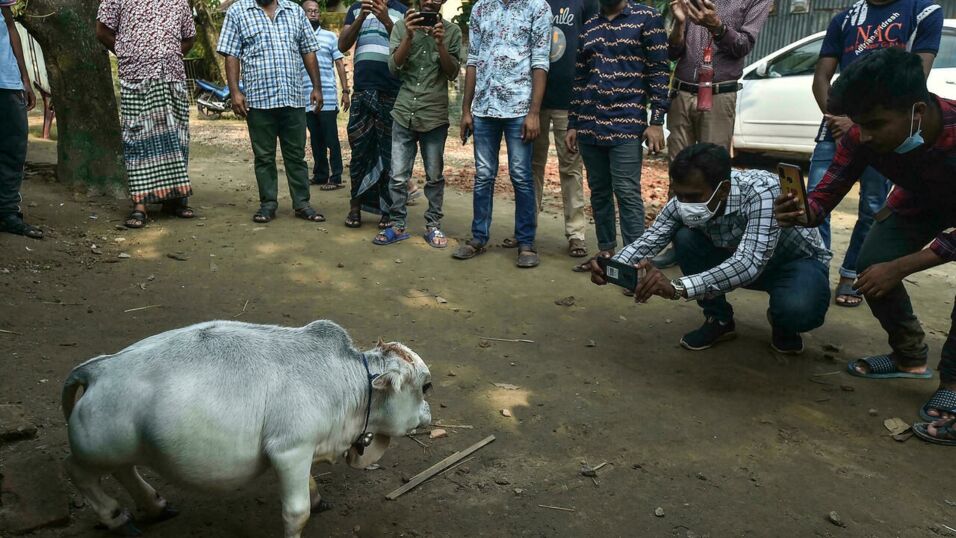 He never imagined that little Rani would get this famous, and now local authorities are concerned that the crowds will pose health threats to both the cow and the nearby villagers as COVID is still rampant in Bangladesh. Sajedul Islam, the government's chief vet has asked the farm to restrict the number of visitors. He said:
I told them they should not allow so many people to crowd the farm. They may carry diseases here that threaten Rani's health.