The English and the Scottish are more likely to get inebriated than 25 other countries, according to an international poll of 25 countries.
The Global Drugs Survey (GDS) found in 2020 that England and Scotland are at the top of an international chart for how often people get so drunk that they end up slurring their speech and losing their balance. The other extreme of the spectrum is occupied by the Portuguese and the Italians.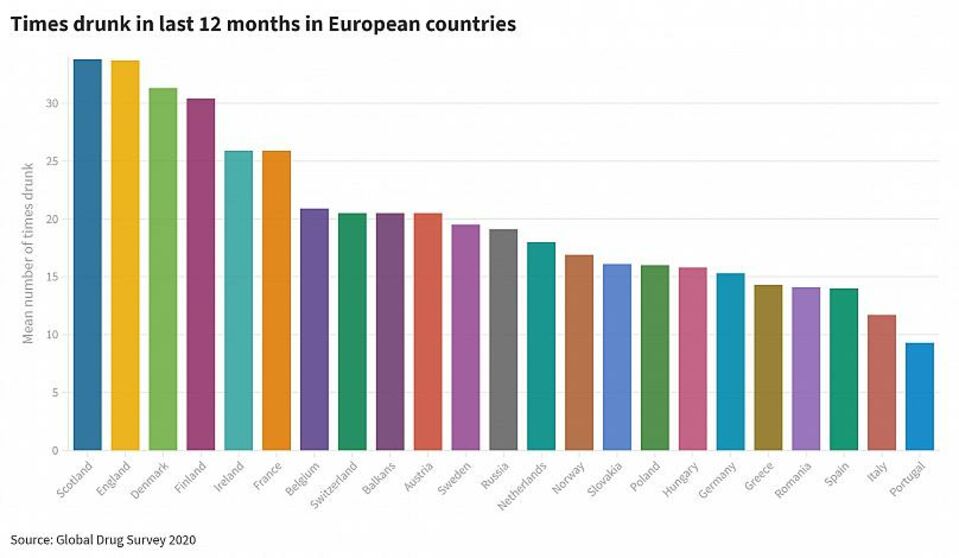 The GDS polled over 110,000 people, including 5.283 Brits, over a period of time that did not include the coronavirus lockdowns, so as not to disrupt the mean results.
Better methodology
This year's results are considered more representative than before, as the GDS reworked its definition of 'getting drunk.'
Physical and mental faculties are impaired to the point where your balance/speech was affected, you were unable to focus clearly on things, and that your conversation and behaviours were very obviously different to people who know you.
By this new and improved definition, the English and the Scottish said they've gotten drunk, on average, more than 33 times last year. These results confirm last year's, in that Britons drink far more often than the norm, and at a greater extent.
These could have serious consequences, though. The survey found that among polled Britons, five per cent of under-25s have declared having sought emergency medical treatment for alcohol-related issues. This is in comparison to a global average of two per cent.
The founder of GDS, Professor Adam Winstock finds these results to be more concerning than amusing:
We don't have a culture that is honest about the impact of intoxication. Drinking is a lousy coping strategy […] British people have never really embraced moderation when it comes to drinking. While many other cultures regard alcohol as an accompaniment to a social event and frown upon public drunkenness, we've often embraced it as a cultural identity […] It's like as a country we need to leave our adolescence behind.