The incident took place on Mount Piyan, near the city of Longjing in northeast China. While tourists were walking on a glass-floored bridge, the structure was swept across by strong winds that caused several of its transparent panels to break, trapping one of the visitors.
Images shared on the social network Weibo show the man clinging to the railings and surrounded by gaping spaces, suspended 100 metres above the ground. It took more than 30 minutes and the combined efforts of firefighters, police and tourist staff to rescue him.
After managing to crawl to safety, the tourist was taken to hospital. According to a statement by the Xinhua agency, the man escaped unharmed despite a major scare. However, the incident launched heated debates on the inherent danger of these bridges.
'This is exactly why I don't dare to step on a bridge like that,' said one user on Weibo. 'How often was the bridge maintained?' another asked amid comments calling the scene a 'nightmare.'
Popular but not incident-free
Glass bridges have become increasingly popular with tourists in China, and construction has increased in recent years. According to the BBC, there are as many as 2,300 such glass bridges across the country and several of them have been record-breaking at their opening.
In 2016, Hunan Province opened a 430-metre long, six-metre wide glass bridge perched above the Zhangjiajie Canyon. In 2020, Guangdong Province unveiled a similar 526-metre structure suspended in the Huangchuan Three Gorges Valley.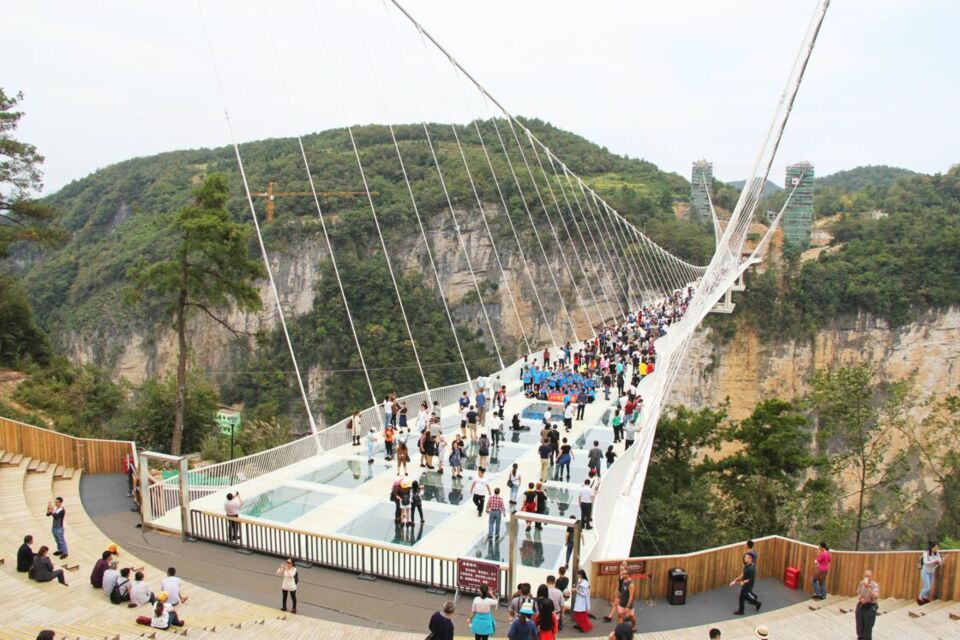 However, these constructions are not without incident. In 2019, one tourist died and six others were injured after falling from a slippery glass bridge in Guangxi province. In 2015, one of the panels of a footbridge in the Henan region cracked under tourists' feet.
Closed structures for security control
In 2018, Hebei province closed its 30 or so glass attractions–bridges, walkways and observation decks - to conduct safety checks. The authorities subsequently established a list of technical standards and guidelines for the construction of such structures.
According to these rules, as reported by Xinhua, glass bridges should not be built in areas of high seismic activity and should be closed in case of bad weather conditions. The number of visitors must also be limited to three per square metre.
Following this latest incident, the 400m long Mount Piyan Bridge was closed and an investigation was launched. The local government has announced its intention to conduct a full safety inspection of all tourist attractions.